Women In Finance | Polly Reaves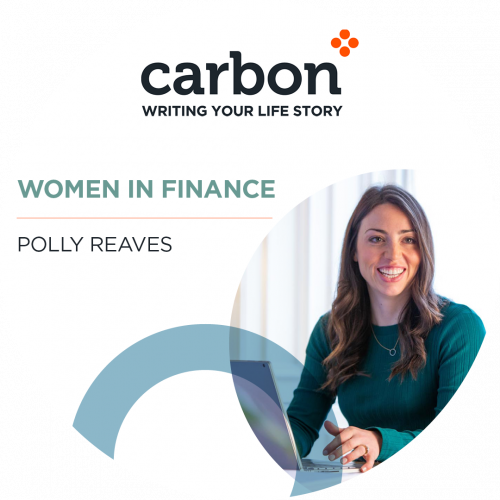 Recently, one of our team, Financial Planner Polly Reaves, was nominated for the Women in Finance Award for 2022. The percentage of female financial services industry leaders remains at 12%, therefore, it is important to Carbon to champion the female talent in our team, as we look to contribute to increasing this figure.

We sat down with Polly to discuss the nomination and her experience to date.

She tells us,
"I was surprised to be nominated as my colleagues nominated me in secret, but I was delighted to be considered. When I got a notification to let me know I had been nominated, the next step in the process was for me to fill out a questionnaire and they would select the finalists from the answers submitted. Unfortunately, I wasn't selected as a finalist this year, but I would be keen to try again in the coming years."

"I actually enjoyed the finalist application process as it got me thinking about my career, achievements, and female representation in the financial planning industry a little bit more deeply. One of the things I'm particularly proud of is having the courage to change career after qualifying in another area. I trained as an accountant after university and once I had qualified, I was unsure if this was the right career path for me, so I decided to explore other options. After speaking to a number of Financial Planners, I decided this was the route I wanted to take as I wanted a role where I could help others achieve their life goals and ambitions. However, the change meant that I had to study and sit further exams, so I did question myself on whether I was making the right decision, but I've not looked back since."

When reflecting on future career plans, Polly shares,

"One of the reasons I enjoy working with Carbon is that there are a lot of development opportunities within the business. Carbon is also passionate about employee wellbeing and looking after our mental health as well as physical health so it's a very positive environment for both younger members of staff and other women who want to come into the industry. My immediate plans are to work towards progressing into a senior role and specialise in areas where I feel I could help, such as working with women dealing with a change in their financial circumstances due to divorce, becoming a widow, career success or inheritance. If I can help them feel more secure at a time of significant change, then I think that is really worthwhile."
At Carbon, we endeavour to be your partner for life and help you write your own life story, ensuring you achieve your goals and ambitions along the way. If you would like a confidential discussion with Polly on how we can achieve this together, contact her here.